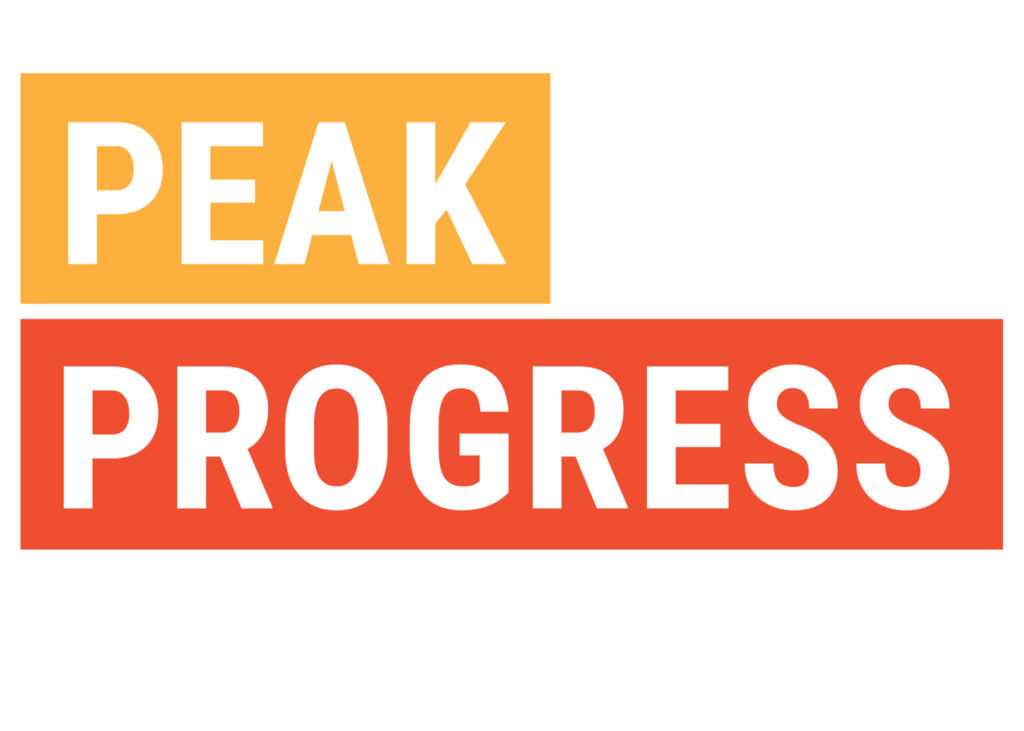 Colorado Springs is rapidly changing in terms of demographics composition. Studying our population is one of the best ways we can understand our community. Explore this page to learn about who lives in the Pikes Peak Region!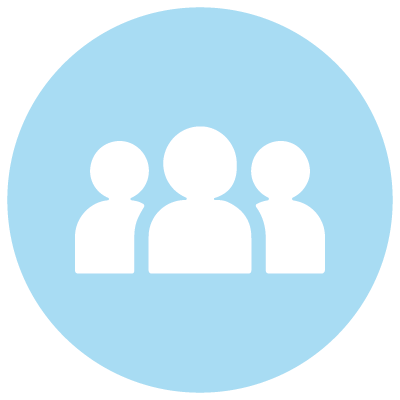 The Colorado Springs Metropolitan Statistical Area (MSA) is different than the United States in many ways and is rapidly changing in terms of demographic composition. We've opted to use a variety of data sources and timeframes to illustrate where we have been, where we are today and where we are headed. Check out the sources section at the bottom for an explanation of the different sources, and the best places to use them. 
Colorado Springs MSA Stats
Colorado was one of eight states in the top 10 for numeric and percentage growth between 2018 and 2019 (Johnson, 2019). In 2020, Colorado's population was 5,773,714, an increase of 14,978 residents from the previous year, which was based on forecasts from the 2010 census data (military personnel are included in population numbers).
El Paso County (15.8%) has grown slightly faster than Colorado (14.5%) since 2010, with Teller County (8.7%) outpacing the overall increase in the U.S. (6.3%).  According to the State Demography Office, El Paso and Teller Counties hit their peak population increases between 2015 and 2020 and will begin to have smaller increases, ranging from 0.4% to 1.5% over five-year increments.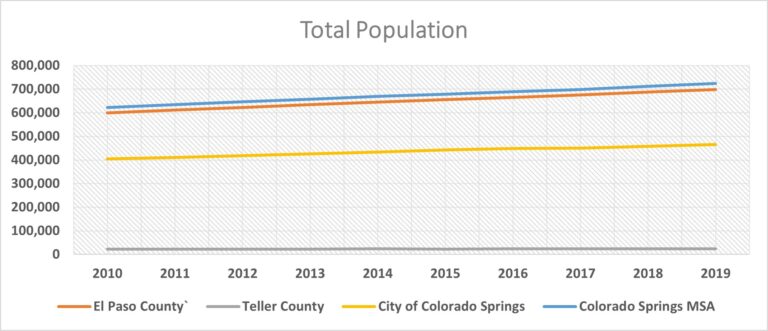 Community diversity includes racial and ethnic identity, languages spoken, immigration status, religion, beliefs, backgrounds, sexual orientation, gender, age, and social class. There are hundreds of variances in individuals that demonstrate the array of peoples within a community. These charts provide snapshots of some of the area's diverse characteristics.
Proportions of household composition (e.g., married, single parent, nonfamily household) have not changed significantly in the Colorado Springs MSA since 2009.  Recognizing the variety among the MSA's household composition guides the community in considering ways to support the well-being of its residents.
In 2019, compared to the United States, the Colorado Springs MSA had a slightly higher percentage of people who identify as two or more races, about the same percentage of Hispanic or Latinos and American Indians, fewer Black or African Americans, and more White people. According to the State Demography Office, our MSA is expected to see a significant increase in both the Hispanic and Asian populations by 2050 and a significant decrease (approximately 13.5%) in the White population. 
NOTE: According to the Department of Local Affairs, race and ethnicity in the U.S. Census are self-identification data items in which residents choose the race or races with which they most closely identify, indicating whether they are of Hispanic or Latino ethnicity. Race and ethnicity are considered separate and distinct identities.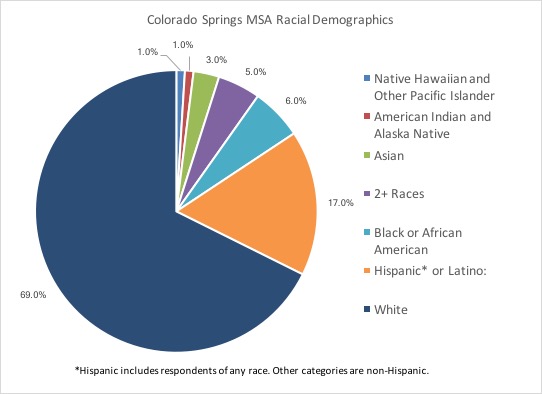 Source: 2019 ACS 1 Year estimates
Veteran Status
16.1%
Population with veteran status
about double the rate in Colorado: 8.2%
more that double the rate in the United States: 6.9%
87,577 Total Veterans
74,676 Male
12,901 Female
The Colorado Springs MSA, located on the fast-growing Front Range, reflects the popularity of the state for employers and residents.  From 2017-2018, El Paso County's population experienced the largest growth in Colorado for a second year in a row, increasing by 12,854. While the local natural increase has remained relatively steady over the last several years, net migration has had a great deal of fluctuation, with a notable decrease in the state (34%) from 2019 to 2020 due to the pandemic. While Colorado and the Colorado Springs MSA will continue to grow, the rate of growth is expected to decline over the next decade.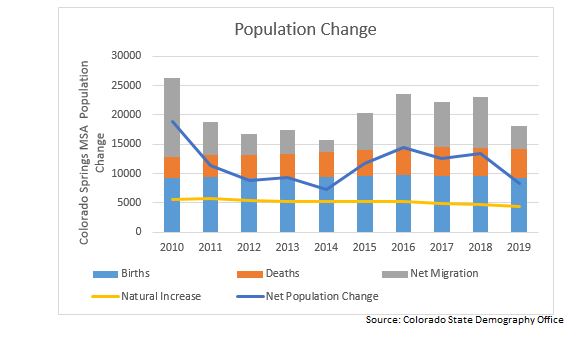 Overall, our population is expected to age and to become more diverse over the course of the next 5 years according to the State Demography Office.  By 2025, the population of those aged 65 and over is projected to increase by 3.5% in the MSA. There has been some growth in the 30–49-year-old group, which is favorable given that those are prime working ages. Increases will also be seen in the ages leading up to that cohort (ages 0 to 29), while there are projected decreases for the pre-retirement cohort (ages 50 to 64).  The forecast for population growth in the United States is 0.5% and the state of Colorado at 0.9%, with El Paso County at 1.6% (Colorado Office of State Planning).
Explore the following Population Trend infographics from Esri for the most up to date data and projections available.
Want to reference this report offline?
Download a summary of the Demographics report below.
Using American Community Survey Data
Geographic Information System
Follow Pikes Peak United Way on social media for all Peak Progress (QLI) updates!