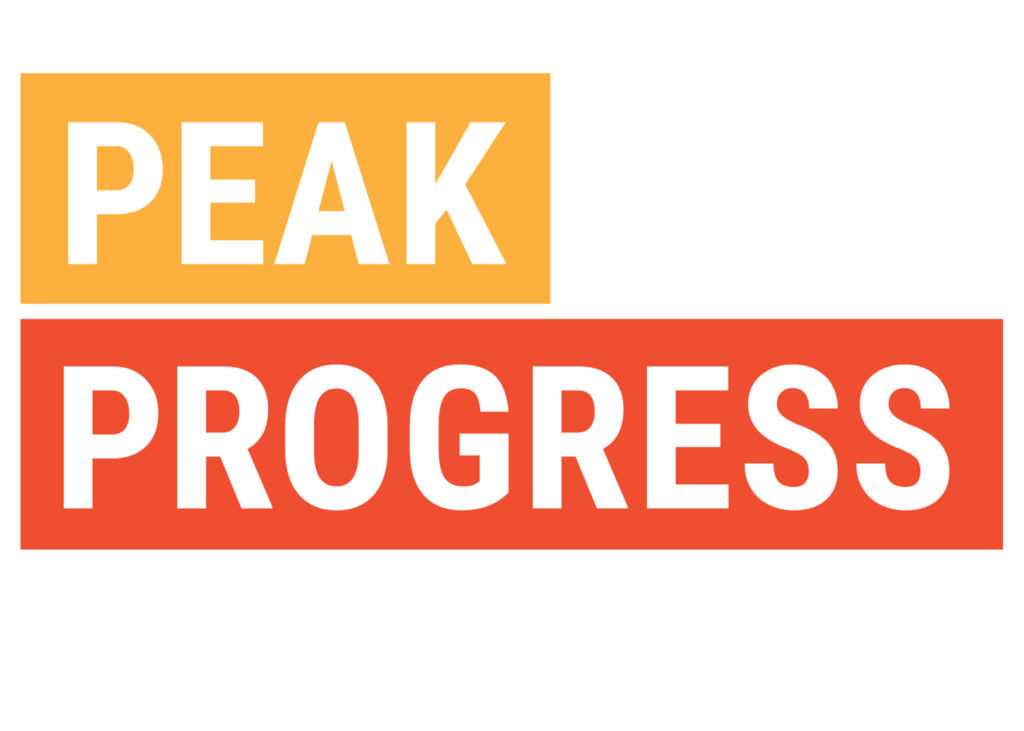 While Colorado often ranks as one of the healthier states in the US, our residents still don't enjoy the length and quality of life that they should or could. The reasons for this are complex and require us to look beyond a handful of morbidity (sickness) or mortality (death) metrics. We must look to a broader set of social and economic factors like housing, income, education, discrimination, the environment, and others to fully understand the drivers. As such, we encourage readers to explore other Quality of Life reports that relate to these factors such as Economy, Education, Land Use & Built Environment.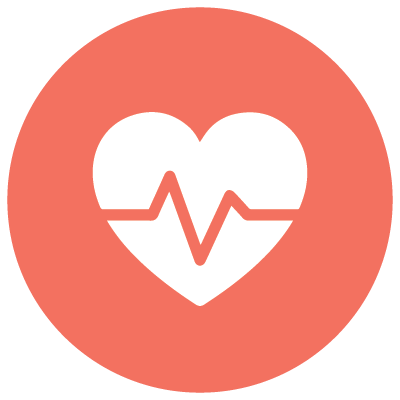 While Coloradans have traditionally enjoyed good health compared to residents of other states, we are developing more complex physical and mental health problems which, if not addressed, will influence the health of our community in the future. Data can better help us understand critical indicators surrounding our health and influence our trajectory. Those indicators include adult and childhood obesity, behavioral health (particularly suicide and substance use), and access to care.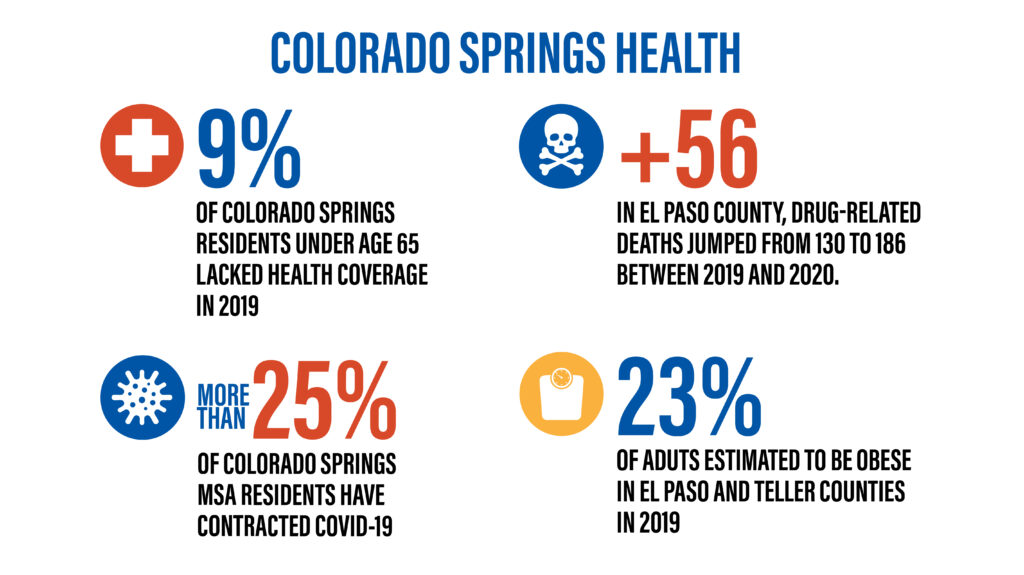 The World Health Organization defines health as "a state of complete physical, mental, and social well-being and not merely the absence of disease or infirmity."1 Good health allows us the opportunity and ability to pursue and achieve life's delights, interests and goals. Five determinants of health that are widely accepted as influencing length and quality of life include the following:2
Health behavior (such as nutrition, physical activity, and substance use)
Healthcare access and quality
Genetics
Social and economic factors
Physical environment
This report looks at length of life, along with health behaviors and healthcare access.
Click on an indicator to learn more about it! Be sure to use the infographics and additional resources for the full experience. 
A key measure of community health is the rate of premature deaths–that is, the years of potential life lost before age 75
3
. The fewer premature deaths experienced, the healthier the community. This measure focuses attention on preventable causes of death among people in their younger and middle years. Colorado Springs Metropolitan Statistical Area (MSA) has a significantly higher rate of premature death than the state overall. It ranks 5th of 6 peer communities.
4 National Center for Health Statistics – Mortality Files, as cited by County Health Rankings
Between 2015 and 2019, Colorado Springs fared worse than peer Colorado communities in rates of preventable deaths. Additionally, Colorado Springs' COVID-19 death rate up to April 2022 has exceeded Boulder's by 91% and Fort Collins' by 55%.
5 National Center for Health Statistics – Mortality Files, as cited by County Health Rankings
6 CDPHE/Colorado State Emergency Operations Center
Vaccine availability has been extremely helpful toward protecting people from infection, serious illness, and death; however, a significant portion of the Colorado Springs community remains unvaccinated.
Health Conditions & Behaviors
Many health factors are within an individual's control, including diet, exercise, personal hygiene, and preventive care. People can also avoid unhealthy behaviors such as overeating, substance abuse, and self-harm. Health behavior is estimated to account for at least 36% of health outcomes. Social circumstances—including where in the community people live—influence 24% of health outcomes.7
Complicating Factor: Obesity
Being overweight or obese increases the risk of chronic disease, cancer, heart disease, stroke, diabetes, and other metabolic diseases. Body Mass Index (BMI) is used to measure this factor.8 Though Colorado Springs and the state of Colorado historically have been among the healthiest in the nation, more people in the community are becoming overweight and obese. In 2020, more than six in 10 adults in the community were in an unhealthy weight category,9 and 28% were estimated to be obese,10 up from 21% in 2015.11
12 CDC's Behavioral Risk Factor System
One in four youth in El Paso County has elevated weight,13 and in 2019-2020, 11% of local high school students were obese (vs. 16% nationwide).14 Obesity leads to many chronic conditions. The incidence of these in Colorado Springs and peer communities can be found in the Chronic Conditions supplement button below.
Obesity can be combatted by good nutrition, including a diet that matches calories consumed with calories burned. The Dietary Guidelines for Americans promote eating foods that are nutritionally dense and low in calories such as vegetables, whole fruits, and whole grains.
The Healthy Eating Index (HEI) is a measure of diet quality. Since 2015 HEI scores have indicated poor diet quality across all populations.15 In 2019, four of five Colorado Springs adults reported consuming one or more vegetables a day.16 That proportion parallels state and national rates but ranked only 3rd out of 4 peer communities for which data was available. Those with household income below $50,000 had a much lower rate of vegetable consumption than those making $50,000 or more.17
For substantial health benefits, children should have one hour of activity daily for at least five days per week, and adults should have 30 minutes or more of activity at least five days a week to maintain a healthy lifestyle and decrease the risk of cardiovascular and chronic disease.
Only 46% of high school students in El Paso County reported being sufficiently physically active for a total of at least 60 minutes per day for five or more days within the past week.18
Each individual has the responsibility to eat healthy and exercise, but policy makers, local organizations, employers, and elected leaders can all help to create an environment that supports healthier lifestyles and that reduces risk factors. Steps can be taken to increase access to exercise options (trails, open space, safe neighborhoods) and affordable healthy foods (fresh fruits and vegetables in stores accessible by walking and/or public transportation), and to improve education about nutrition. Public policy should support regular physical activity, increase affordable dietary choices, promote reduction of sugar, fat, salt, and preservatives in processed and fast foods, and restrict marketing to youth of foods and beverages high in sugar, fats, and salts.
Behavioral health "refers to the promotion of mental health, resilience, and well-being; treatment of mental and substance use disorders; and support of those who experience and/or are in recovery from these conditions, along with their families and communities."19   In short, behavioral health includes both mental health and substance use, and this section will review those topics along with suicide.
Self-reported health status, specifically poor mental health days, is often used as a general measure of health-related quality of life in a population.20 Data from 2020 indicate that 15.6% of Colorado Springs individuals (ages 5+) reported 14 or more days of poor mental health within the previous 30 days, which is notably higher than the State target level of 10.3%. Among peer communities for which data was available (Albuquerque, Austin, and Boise), Colorado Springs ranked 4th of 4.21
SAMHSA's 2020 National Survey on Drug Use and Health (NSDUH) reports that approximately 19.3 million people aged 18 or older had a substance use disorder in the past year. In El Paso County, drug-related deaths jumped from 130 to 186 between 2019 and 2020.22 Among Colorado peer communities, Colorado Springs ranked 3rd of 3 in each of three key categories of drug-related deaths.
23 Colorado Health Information Dataset (COHID)
Alcohol is the most used substance nationally and in the state. In 2021, 18% of adults in the Colorado Springs MSA reported binge drinking or heavy alcohol consumption.24  That ranked 2nd best of 6 peer communities.
In 2019 the percentage of El Paso County high school students reported binge drinking in the previous 30 days was 10.6%, compared to 14.2% statewide.25  That ranked 1st of 3 Colorado peer communities for least binge drinking among high school students. For more information and local statistics, see the Substance Use Disorder Supplement button below.
Colorado Springs MSA lost 200 people to suicide in 2020; El Paso County accounted for 183 suicide deaths and Teller County accounted for 17.  The 2020 El Paso County Coroner's Report indicated that firearms were responsible for 54% of local deaths by suicide.26 Colorado Springs has a higher age-adjusted suicide rate than the state overall as well as peer communities in Colorado.27
29 CDPHE/Colorado Center for Health and Environmental Data
Clinical medical care (access and quality) accounts for 10 to 20% of a person's total health.30 Access to care, especially primary care, is a key resource for individuals to meet their potential.
In 2019, Colorado Springs had 61.8 primary care physicians per 100,000 population (1 for every 1,620 residents). While the number grew throughout the 2010s, Colorado Springs still had fewer primary care doctors, relative to population, than the state (82.6) and nation (76.4). Colorado Springs also ranked 6th out of 6 peer communities.
31 Health Resources & Services Administration
In 2014, the Colorado Health Institute identified the regions containing El Paso and Teller counties as state "hot spots," that needed more than 120 primary care physicians both for the overall population as well as for people covered by Medicaid.32
Colorado Springs also has a shortage of mental health and substance use disorder treatment professionals. As of 2020, Colorado Springs had a mental health professional for every 297 residents, which ranked 4th of 6 peer communities.
Health care costs may be covered through employer-sponsored insurance, individual plans purchased through the Health Insurance Exchange, other insurance and government-sponsored programs such as Medicare for adults aged 65 and over, Medicaid for low-income families, and the Children's Health Insurance Program for young people in low-income settings.33
35 U.S. Census, Small Area Health Insurance Estimates
The Colorado Health Institute has estimated coverage for all Coloradans in the midst of COVID-19. Between 2019 and 2021 the number of commercially insured El Paso County residents decreased by almost 6 percentage points, while Medicaid enrollment increased from 19.4% to 28.7% of the county's population due to a COVID-related mandate.36 El Paso County's Medicaid enrollment rate is 4% higher than the national average.
According to the Colorado Health Access Survey 2021, El Paso County falls in the middle of the pack for Colorado regions for accessing health services such as primary care and dental care. El Paso County ranked 3rd of 3 Colorado peer communities for proportion of the population with a source of care and for seeing a doctor for preventive care. However, the county ranked 1st of 3 Colorado peer communities for dentist visits.37
38  Colorado Health Access Survey 2021
The pandemic affected primary care utilization, resulting in a 25% drop in visits to care providers. Once people felt safe enough to return to their providers, their conditions were more serious and required more invasive interventions in many cases.39 For information on the impact of the pandemic on health workers, read the supplement on Healthcare Workforce below.
Want to reference this report offline? 
Download a summary of the Health report below. 
Follow Pikes Peak United Way on social media for all Peak Progress (QLI) updates!